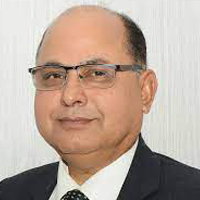 Prof. N.B. Singh
Vice ChancellorKhwaja Moinuddin Chishti Language University, Lucknow
Message of the Vice Chancellor
The great thinker, Rabindranath Tagore, once remarked, "The highest education is that which does not
merely give us information but makes our life in harmony with all existence".
Ever since its first academic session in 2013-14, Khwaja Moinuddin Chishti Language University has been striving
to provide more than just a simple education to the students who step into its haloed portals.
After painstaking efforts by the administration, the University has now been granted the UGC 12B status with its
B.Tech. programme (in Mechanical, Civil, Electrical, Fashion Technology and Computer Science)  being duly
approved by AICTE. Further, the status of Centre of Excellence has been granted to the Departments of Arabic and
Commerce, in the last academic session.
RUSA's opportune grant of Twenty Crores was indeed a great support for us in strengthening our
infrastructural capabilities as we could utilize the grant in construction of a multi-purpose auditorium, a
state-of-art studio, reading rooms, labs and other facilities. Students participated in a number of State and
National level competitions and emerged as winners in most of these events. Not only this, our
University's Annual Inter – College Fest – COSAC-2019 drew students from several colleges and Universities
across the State and was a complete success. It is pertinent to mention here that students of this University
also got an opportunity to be a part of this year's Republic Day Parade at Vidhan Sabha.
Amenities such as separate hostels for boys and girls with attached mess facility, well equipped gymnasium with
indoor badminton and tennis courts, basket ball court, net practice facility for cricket players, yoga centre,
library facility and language labs have attracted and engaged the students in various extracurricular
activities, over the last few years. To achieve milestones in academic excellence and research pursuits, the
University organizes International and National Seminars from time to time. Delegates from all over the world
participate in these seminars and conferences, making these events thoroughly enlightening and informative. I
would also like to mention that in the present academic session a one week research methodology workshop was
organized in collaboration with the U.P. State Department of Higher Education, a major event which drew more
than 100 participants from across the nation.
For institutions as fresh as ours, to achieve excellence it was pertinent to look for partners beyond boundaries
and this led us to sign important Memorandum of Understanding (MoU) with institutions like GIRI
Institute of Development Students (GIDS), Lucknow, University Islam Sultan Sharif Ali, Brunei, Aberystwyth
University, UK, Al-Mustafa International University, Qum, Iran and Razavi University of Islamic Sciences,
Masshad, Iran.
In the present times, the role of a teacher is limited not just to delivering lectures in classrooms, but also
guiding and counseling the students in taking the correct decisions as far as their professional life is
concerned. The Placement and Career Counseling Cell helps the students to take wise decisions regarding their
future by organizing interactive workshops and lectures to update and upgrade their knowledge regarding the
demands of the job market.
The SWAYAM online portal of the Government has encouraged students to enroll in several online courses which has
made learning interactive and engaging.
Maintaining discipline amongst students is of utmost importance at Khwaja Moinuddin Chishti Language University
and in keeping with this objective, a Women Grievance Redressal Cell and Anti-Ragging Cell has been formulated
which addresses the matters related to student welfare, round the clock. The NSS and NCC units of the University
are actively involved in engaging students in various extracurricular activities.
The Scholarship Cell of the University ensures that students belonging to under-privileged sections of the
society receive their scholarships on time, so that the process of gaining education is burden-free and
hassle-free for them.
After successfully running AICTE approved B.Tech. courses for its students, the University now intends
to introduce a B.Sc. (Honors) Course with specialization in various disciplines – Physics, Chmistry,
Mathematics, Computer Science, Electronics, Zoology, Botany, Biotechnology, Microbiology, Statistics and
Industrial Chemistry in the upcoming Academic Session – 2020-21.
Another milestone in the academic history of the University has been the introduction of Choice-Based
Credit System (CBCS) at both the Post Graduate and Under Graduate level.
I would take this opportunity to thank our Hon'ble Governor, Shrimati Anandiben Patel, for
introducing the futuristic "Padhey Lucknow, Badhey Lucknow" scheme in order to
encourage students to read books of their own choice. Following this scheme, the University administration has
made it mandatory for students to spend 5 hours per week in the library and 5 hours per week in physical
activities. Further, various departments of the University have also been instructed to follow the scheme and
encourage students to read books in the event of a teacher's absence in class.
It is my firm belief that the University will grow from strength to strength under the able guidance of
Hon'ble Governor of Uttar Pradesh, Shrimati Anandiben Patel and Hon'ble Chief Minister of Uttar
Pradesh, Shri Yogi Adityanath, who have been extremely instrumental in changing the name of our University from
'Khwaja Moinuddin Chishti, Urdu Arabi- Farsi University' to 'Khwaja Moinuddin Chishti Language
University'. The University will now open its doors to teach many more national and international
languages, thus increasing the employment opportunities of its students, manifold!
Of course, all these initiatives and developments are a grand culmination of the efforts of the faculty members
and administrative staff of the University.  We hope that the University continues to soar and achieve greater
heights of success in future. Let us take a pledge to work together in transforming Uttar Pradesh to Uttam
Pradesh and forge ahead with the firm determination to bring our nation at the forefront of development and
prosperity!
Come, let us make India the greatest superpower, together!
"A man of knowledge is like a brilliant sun who spreads his brilliance all over the world"
-Khwaja Moinuddin Chishti (RA)